Listing Presentation For Agents...
It's Guaranteed To Win Listings!
The
Only

Listing Presentation That

Proves


To Sellers You have

Buyers

For Their Homes!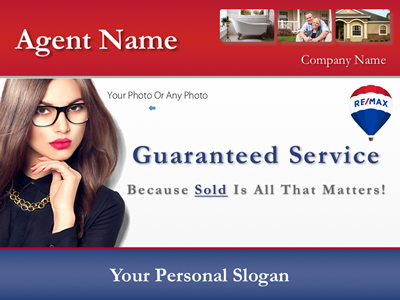 ---
Don't Be Like other Agents...
Give Sellers What They Really Want & Win!
---
Real Agents... Real Results.
Lilo Clacher of RE/MAX Proven Professionals
Writes...
Since purchasing the seller listing presentation package and putting it to full use, I have NEVER walked away from a listing appointment without the signed listing in my briefcase.
Edee Franklin of Max Broock
Writes...
Powerful material that actually works. All I had to do was flip the pages to get the listing.
Robert Burns of RE/MAX Writes
...
Since buying the listing presentation package, and putting it to full use, I have earned over $2,000,000 in personal commissions. My confidence is off the charts. It is awesome to know I am going to win before I even take a step into the home.
---
Here Is The Listing Presentation Package Proven To Produce
Rapid Results... On The Very First Listing Appointment.
($149 each or the Entire Package for only $299)
---
You Are Always Only 3 Points Away From Winning!
Sellers Want To Hire A Real Professional... Not Some Part-Time
Average Agent Looking To Make A Few Bucks On The Side.

Your Client Wants Buyer Proof.
Can You Prove You Have Buyers?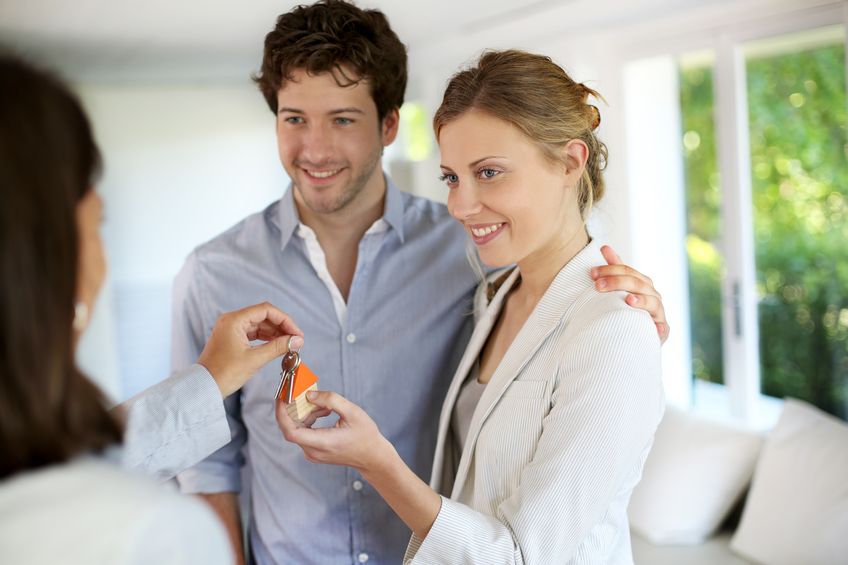 Do You Bring A List of Buyers To The Appointment?
If Not... Why Not!
Of Course You Have Access To Buyers For Your Sellers!
You access these buyers off your MLS board. (70% of buyers in your city are found on the MLS board.)
Our 30 minute coaching video will show you how to create this list of buyers.
And we will show you how to present this list of buyers to your sellers.
Real Buyers... Buyers Who Must Buy Within 15 Days.
You will put a list of real buyers on the kitchen table.
Motivated buyers... buyers who must buy within 15 days.
And when you do... your seller instantly recognizes you are the right agent to list with.
---

Your Client Has 12 Problems.
Unless Your Marketing Plan Addresses & Resolves All 12 Seller Problems... They Will Not List With You.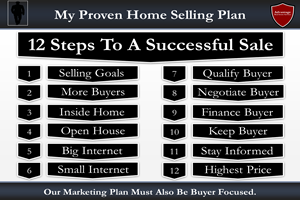 Are You Solving Their Top 12 Problems?
If Not... Why Not?
The Solutions Create Seller Trust & Confidence In You.
By showing your seller the solution to these 12 problems... you will put the seller at ease.
Once at ease... they no longer are under stress and feel it is safe to do business with you.
Trust & confidence... it's the most important factors when it comes to the seller deciding to list with you.
---

Your Client Wants A True Professional.
A Listing Presentation Must
Look & Sound

Professional
We Have 14 Unique Designs... Each Design Includes Content
& Scripts Written To Win The Seller's Confidence & Listing
Editable Content: Add or Edit Content, Add Your Photo & Logo, Add Slides, Etc...
Editable Colors & Design: Use 'As Is'... Or Edit To Any
Color Scheme

or

Company Colors
---
Your Income is Always on The Line...
You Must Give Yourself The Advantage!
A listing presentation is an opportunity to represent a homeowner in the sale of their home. While a listing appointment can be a simple conversation with a homeowner, agents who excel at winning listings use a listing presentation that positions them as the Buyer Authority. These agents understand the importance of putting a list of real buyers on the seller's table... buyers who must buy within 15 days. That's why an effective presentation must be divided into 2 unique sections.
Intro: The Strategy Of A Winning Listing Presentation
What Does Your Seller Want?.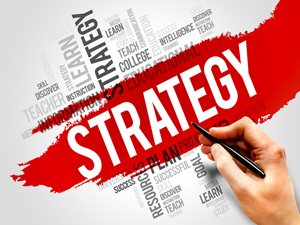 Listing Presentation Strategy Determines The Victory
Before you invest into a listing presentation you first must consider the strategy. To win listings, you must have a strategy that appeals to the desires of the seller. The last thing you want is a listing presentation that a seller simply is not interested in hearing.
To guarantee you have the 'right' strategy just ask yourself this question; 'What Does A Seller Want From You?'. The obvious answer is a buyer for their home. This provides you with the right strategy. You want your listing presentation to prove to that seller you have access to buyers for their home. And you want to provide the evidence that you do.
1. Cover Page of the Listing Presentation
Goal: Instantly impress your client...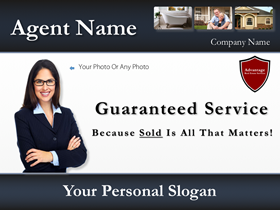 As they say, 'You only get one chance to make a first impression'... so you better get it right.
The key to getting it right is to use the right message on your listing presentation cover slide. And that right message must appeal to the desires of your listing client. Said another way... 'What does your seller want from you?'. The answer is... a sold sign on their front lawn.
The 2nd most important message your seller wants is to know you will fulfill all your promises. That's why the headline of your cover slide reads 'Guaranteed Service'. In only 2 words you have put the seller at ease and you are ready to begin your listing presentation.
2. Section 1 of a Winning Listing Presentation
Goal: Prove you have motivated buyers...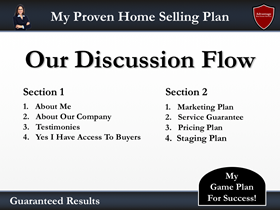 The #1 reason why sellers hire agents is they want a professional real estate company to find a buyer for their homes. This presents to the agent an opportunity to use the 'Yes I Have Access To Buyers For Your Home' listing strategy to impress the seller and win the listing.
Where do you gain access to these buyers? You access the buyers off your MLS board. And you use the MLS board's Hotsheets to know when one of the buyers are ready to buy a home.
This listing presentation strategy provides the required proof and evidence to the seller that you are indeed the Buyer Authority. Once you have established in the mind of the seller you are the Buyer Authority... your seller trusts you.
3. Section 2 of a Winning Listing Presentation
Goal: Marketing Plan for 1st time buyers...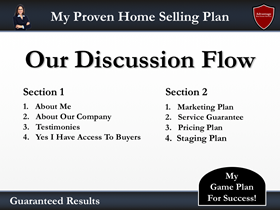 After you have proven you have access to buyers in section 1 of the listing presentation, you now turn your attention to section 2 where you will discuss your marketing plan and how it reaches into the first time home buyer market.
You will also present to your homeowner tips and strategies on how to guarantee the home appeals to buyers during a showing. Specific tips and strategies are discussed to maximize impact during showings.
You will also discuss your Service Guarantee during your presentation and how your homeowner can rest confident in knowing you will do what you have promised throughout the listing term.
4. The Listing Presentation 'Staging Plan'
Goal: Ready the home for showings...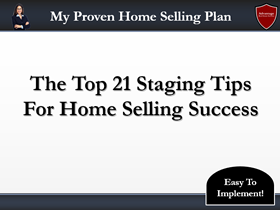 You absolutely want your listing client to value the impact 'decor' has on a buyer during a showing.
For this reason you will discuss the top 21 staging tips with your client to guarantee the home is ready for showings.
It is of critical importance to the eventual sale of the home that your client recognizes the urgency to ready the home for sale. That's why this listing presentation includes this important slide for home staging tips.
With these easy to implement 21 tips your listing client can have their home ready for showings in less than 48 hours.
5. The Listing Presentation CMA
Goal: For your listing client to understand the CMA process...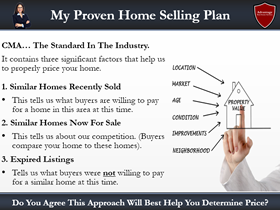 It is not wise to assume your client is aware of what a CMA is and how the value of the home is determined when using the CMA.
It is for this reason your presentation must educate your listing client on the 3 most important factors of a CMA.
1. Similar Homes Recently Sold
2. Similar Homes Now For Sale
3. Similar Homes That Did Not Sell
6. The Listing Presentation 'Price Range' Slide
Goal: Empower your listing client with choice...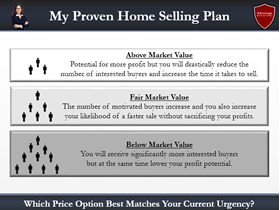 When advising your listing client on list price, it is important for you to offer 3 unique price points to the homeowner.
1. Above Market Value
2. Fair Market Value
3. Below Market Value
By doing this in your presentation, you're empowering your client to set a list price based upon their selling urgency.
7. The Listing Presentation '4 Showing Points' Slide
Goal: An educated seller is an informed seller...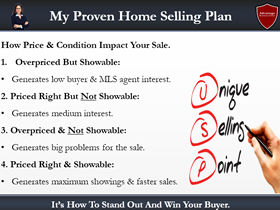 Most clients are not fully aware on how home condition & price impact the sale. For this reason your listing presentation must disclose 4 showing points.
1. Overpriced But Showable
2. Priced Right But Not Showable
3. Overpriced & Not Showable
4. Priced Right & Showable.
8. Presentation 'Guaranteed Service Plan' for Seller Trust
Goal: To put the seller at ease...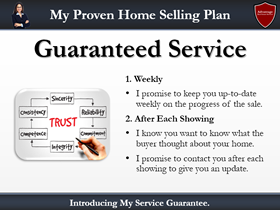 Now it's time to prove you back up your word by providing a powerful service guarantee.
You will clearly outline your service guarantee to your client in your listing presentation.
The result... you will have a seller who knows they can trust you to do all your promises.
9. Listing Presentation '12 Point Marketing Plan' Slide
Goal: To prove you are the buyer authority...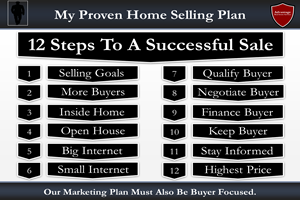 It goes without saying a homeowner desires to list with an agent who is competent and has the experience to sell the home. This is why a 12 step marketing plan is an essential component of a powerful listing presentation.
The key to success within a marketing plan is to focus your client on buyers. You will outline 9 specific buyer strategies to the seller within your 12 step marketing plan.
The result... you will have a seller who feels it is safe and secure to list with you.
10. Position Yourself As The Buyer Authority
Just Don't Be An Agent... Be The Authority.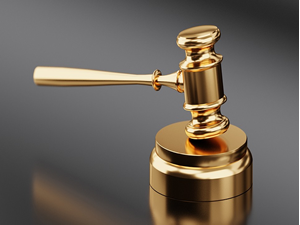 The key to success as a listing agent is to position yourself as the buyer authority. By doing so you are providing the seller with the motivation required to select you are their listing agent. At the same time you are separating yourself from the competition who are simply positioning themselves as average agents.
This is what you want your listing presentation to do for you. Your presentation must demonstrate that by listing with you the seller has an distinct advantage. This is easily achieved by putting a list of real buyers on the seller's kitchen table. The training included with this investment will show you how to extract buyers off your MLS board. These are real buyers who must buy a home in the next 15 days or less.
Key Listing Presentation Features
PowerPoint & Keynote Compatible
Use and customize your listing presentation with either MS PowerPoint or Keynote.
iPad & Tablet Compatible
Show the listing presentation on your iPad or Android tablet when on an appointment.
High Quality Printable
Your presentation has been graphically designed to produce a beautiful print finish.
Fully Editable & Customizable
In seconds you can drop in your logo, photo, make edits to content and much more.
Includes Content For All Slides
Recommended listing presentation content that is proven to produce results included.
Includes Free Video Training
Included 'Step-By-Step' listing presentation video training to help you win more listings.
For more information on the listing presentation please visit our FAQ page.
Listing Presentation Resources
Articles, Scripts & Tips To Improve Your Listing Presentation Skills
---
---
---
---
The Most Versatile Listing Presentation You Can Own

Versatile Presentation - Use On Computer, Tablet or iPad, Print Format, Online & More
Company Listing Presentations Available
The '12 Reasons Why To List With Me' listing presentation are copyright of Achieve Ace Ltd. RE/MAX is a copyright & trademark of RE/MAX International. Century 21 is a copyright & trademark of Century 21 Real Estate LLC. Coldwell Banker is a copyright & trademark of Coldwell Banker Real Estate LLC. EXIT Realty is a copyright & trademark of EXIT Realty Corp. International. ERA is a copyright & trademark of ERA Franchise Systems LLC. Keller Williams is a copyright & trademark of Keller Williams Realty, Inc. Berkshire Hathaway HomeServices is a copyright & trademark of HomeServices of America Inc. Royal LePage is a copyright & trademark of Brookfield Real Estate Services Fund. The above companies have not endorsed these presentations but by agents employed with these companies who have purchased the listing presentation. REALTOR® is a is a copyright & trademark of the National Association of REALTORS ®. All other trademarks, service marks, trade names & logos appearing on this website are property of their owners.