Top 7 Listing Presentation Scripts To Win Listings!
The Best Listing Presentation Scripts To Use For A Successful Listing Appointment!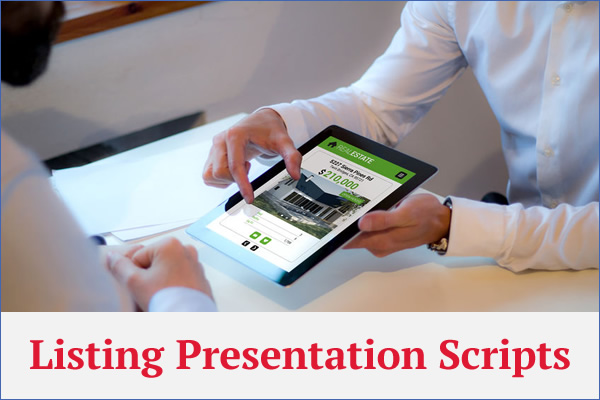 ---
Below you will find detailed scripts to use to gain the seller's favor & approval on listing appointments. This article outlines what to say to the seller before, during and after the listing presentation and listing appointment.
---
Listing Presentation Script 1: Qualify The Seller Before Doing A Listing Presentation.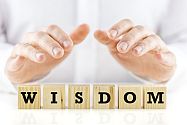 Many agents go on listing appointment only to discover the seller is not ready, or motivated, to list.
This is why it is essential for you to qualify the seller prior to the listing appointment.
This way you will save yourself time and heartache.
Here is a survey suggestion, with specific questions, on how to qualify a seller when speaking with the seller on the telephone.
Simply Ask These Questions;
Mr. Seller, before we get together may I ask a few questions so I can prepare properly for our appointment?
01. How long have you been thinking about putting your home up for sale?
02. Do you want me to prepare for you a CMA which outlines the current market value for your home?
03. May I have your permission to bring a list of targeted buyers to our appointment?
04. A few of these buyers will be ready to buy within just days... is that too fast for you?
05. After we meet and you have had the opportunity to review our home selling system, when are you ready to list?
06. Are you planning on interviewing more than 1 real estate agent?
07. Where do you want to move to after you sell?
08. How soon do you want to move?
09. Have you looked at homes online yet to see what's out there?
10. If one of my buyers offers you the price you want, are you ready to accept the offer?
11. What is the price range you think you are willing to accept?
12. Can you describe your home to me?
13. Is it possible for me to look at your home before we meet?
14. Also... may I have your permission to drop off my 'How To Have A Successful Sale' package 2 days before we get together?
15. Our meeting will require about 1 hour of your time, is that OK?
Listing Presentation Script 2: Request To View The Home Before Doing A Listing Presentation.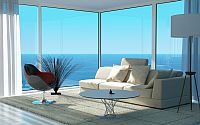 The home tour is your opportunity to build rapport with the seller.
The very first task you ought to do when inside the home is to take out your notebook.
With your notebook in hand begin to take notes as the seller walks you through the home.
Specifically you want the seller to outline both the positive and negatives of the home so you can develop a showing plan.
Simply say this;
1. Before we sit down to discuss the sale of your home, would it be possible for you to show me your home and for you to let me know what you think are the highlights of your home a buyer would like to know?
2. Also... can you tell me what you think are the 'negative' features of the home so I can develop a viewing strategy to overcome these issues when with a buyer?
Listing Presentation Script 3: When At The Kitchen Table.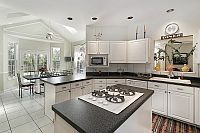 Once the home tour is completed you will want to sit down with the seller at the kitchen table.
Once at the kitchen table begin the conversation with a quick review of the 'Pre-Listing Presentation' package you dropped off to the seller at least 2 or 3 days prior to the listing appointment.
You absolutely want to discuss the pre-listing presentation before you begin your listing presentation.
Simply say this;
1. Did you have the opportunity to review the pre-listing presentation material I dropped off to you 3 days ago?
2. Do you have any questions?
3. Did you notice I included a list of Targeted MLS Buyers?
Listing Presentation Script 4: Discuss The Targeted List of MLS Buyers.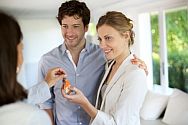 Do you know what is the #1 Motivational Hot Button of Sellers... that if you push this button you significantly increase the odds at winning the listing?
Buyers are the #1 motivational hot button of a seller.
If you want to win listings you must prove you have buyers and present tangible evidence you have buyers.
This is the purpose of the Targeted List of Buyers strategy.
Simply say this;
I brought with me tonight what is called a list of Targeted MLS buyers for your home. This list consists of buyers who will be ready to buy a home over the next 30 to 120 days. In 17 times out of 20 your buyer will be found on this list. Allow me to show you where I produced this list and how my MLS board cooperates with me so that we know when one of these buyers is ready to buy a home.
Listing Presentation Script 5: The Marketing Plan Introduction.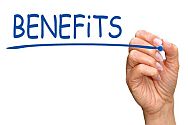 We all buy benefits and your seller is no exception. This is why we must use a real estate listing presentation and have within the presentation the marketing plan which outlines the benefits the seller will enjoy when hiring you.
Simply say this;
Mr. Seller there are 12 major benefits you will enjoy when listing with me. Allow me to walk you through all 12 right now as I discuss my marketing plan with you... beginning with your Top 3 Selling Goals.
Listing Presentation Script 6: The Pricing Plan Introduction.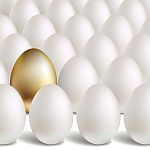 You simply do want to lose the listing by not having a professional pricing presentation in addition to your professional listing presentation.
Actually you may want to have two separate presentations... the first being the listing presentation and the second the pricing presentation.
Simply say this;
Mr. Seller, now that we have discussed both the Targeted list of MLS buyers and the Marketing plan, allow us to now discuss the pricing plan for your home. Mr. Seller, have you ever heard of a CMA? It is the industry standard professionals use to determine a price range for your home.
A CMA provides to you a summary of what buyers are willing to pay for a home such as yours in this neighborhood at this time. It will also tell us what buyers are not willing to pay for a home such as yours at this time. And lastly, it will inform us of our competition which is very important when it comes to winning your buyer.
Listing Presentation Script 7: The Staging Plan Introduction.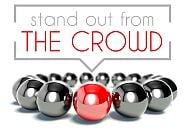 Have you ever noticed how easy it is to find flaws in other people, yet virtually impossible when doing a self-examination! The same applies for sellers when it comes to the 'showing quality' of their homes.
Many sellers are not aware there are factors which will increase the difficulty of selling the home.
How to you resolve this issue with the seller?
You use a staging plan to address these factors.
Simply say this;
Our last issue to discuss tonight is home staging. I like to call it 'Showroom Shine'. Just as a car dealership ensures their cars look the very best... so too must we ensure your home is prepared in such a way it beats your competition and wins the buyer.
---
Share This Article
Top 7 Listing Presentation Scripts To Win Listing Appointments
---
PROVEN LISTING PRESENTATION FOR REAL ESTATE
Impress sellers with your very own custom listing presentation.
The only listing presentation that's proven & endorsed by top agents.