'Buyers For Listings

Free

Ebook'
Discover How To Get Home Buyers Off The MLS Board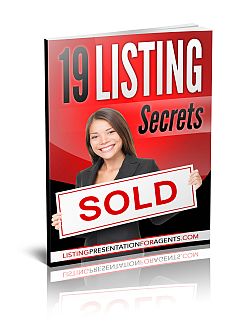 Dear Agent:
Have you ever wondered what elite listing agents use, and say, in their listing presentations? If you have then you will want to get your hands this on this remarkable ebook because it will show you exactly what you must have in your real estate listing presentation.
Were you aware the typical seller interviews 2 to 7 agents before hiring one to list the home for sale? Competition for listings means coming in 2nd does not pay you a dime. This is why you must simply know what to say in your presentation... and how to say it too!
For example... do you know elite agents never say they charge a commission? Rather they inform the seller about the MLS access fee. This way they avoid that nasty conversation about reducing commission. After all, how can you reduce commission when there is no commission?
Another point is the MLS HOT SHEETS. Elite listing agents use that powerful tool on every listing appointment because it is an Authority. When you partner with the MLS, you gain instant credibility in the eyes of the seller because of the reputation of your local MLS board.
And what about appreciation gifts? Were you aware top listing agents actually bring gifts to the listing appointment? They do so to establish trust before they even take a step into the front door of the home.
Lastly, elite agents use testimonies in a way most agents are not even aware. How so? Elite agents know a seller will believe what a happy client has to say more so than what the agent may have to say about his or her services. So it is essential you know this very important secret too.
So go ahead... download the ebook and enjoy what you are about to discover for it will absolutely help you to list more homes.
---